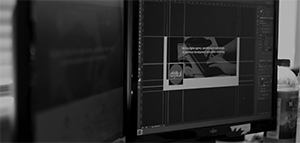 The world of Web Design is always changing and new trends come in to place. It can be hard to keep up sometimes, and you never know what's coming round the corner next.
2014 has been a year where Flat UI design completely took over, the fold has become more of a distant memory, and graphics are making a nice come back. Some of these things lead to my predicted web design trends for 2015, but there are also some new ones.
In 2015, I think it will be an advance on quite a lot of existing trends that have been knocking about in 2014. So here they are:
1) Flat UI Design will continue to dominate
Flat UI, in my opinion, will continue to develop and will be seen pretty much everywhere. With a huge contribution from Apple with the iOS look and feel, everyone seems to be adopting this concept. I particularly love it because it allows a site to look sharp, clean, and refined. It just works. With the internet growing more and more popular, the demand for new websites is always increasing. More often, we give existing websites a refresh, and I think that this particular service will allow flat UI to refresh more and more websites.
2) Full screen background images and videos
HTML5 has allowed video to start taking over websites. It provides some really nice animation for the site without it being an overkill, and allows sites to not be too static. Large full screen videos on the home page as you load the site seem to be the hot favourite. If done right, it can give people a really good idea of what your product/services/company are like, but if the videos are of completely irrelevant things, I think it's a waste. If you're wanting to implement this in to your site, make sure it fits with what message you are trying to get across to people. This goes the same for full screen background images. They look brilliant if done properly. Which ties in with my next point:
3) Higher demand for website photography
Photos are said to speak 1000 words. If a photo is so valuable, why would you not go to the trouble of getting beautiful, sharp, high quality images? You could have an amazing site design wise, but could be let down by poor quality, blurry, out of focus, grainy, badly composited smart phone photos. Smart phones are great for capturing personal moments for you to keep, but are not great for website photography. The aesthetics of a website are so important these days, that I think people will want to have a polished, refined site so will be requesting more website photography. It's important you get a professional in to take photos so you get that perfect final look and feel of your site. It's also important when it comes to eCommerce sites to have high quality product images, so people know exactly what they are buying. We have an in house website photographer who can help you get the ideal images for your website. Call us on 01623 650333 or email info@dijitul.uk.
4) Scrolling sites and parallax
Linking to a post I have done previously, people are learning to start to let go of the "fold" concept. Letting content flow naturally can make a great impact on the overall look of your website. People have learnt to scroll, so I think this will be taken advantage of more. Parallax backgrounds and animations activated on scroll will most definitely be sticking around and becoming more popular for 2015.
5) Responsive Web Design (RWD)
This is inevitable. The smartphone and tablet market is growing rapidly, and we need to make sure we keep up with it. Making websites accessible to as many people as possible will be the key to a successful website in 2015. We shouldn't be giving people the option as to whether RWD is an additional extra for their new website in the quoting stage. It should really be built in to the quote by default to help start pushing businesses in to the mobile world in order to give a better overall user experience.
6) Ghost buttons
Small details can make a big difference. This button style is lovely. Personally, i'll be using it more in the New Year, and I think it will catch on very quickly. See examples of it here: http://websiteswithghostbuttons.tumblr.com/
image: Ghost button on www.google.com/nexus
7) Adding personality
This is something that i'm a big believer in. I think that sometimes companies/agencies are afraid to add a bit of personality to their site. OK, this isn't really a "design" feature, but this is something I really wanted to mention. Instead of making your content all serious and corporate, let people know what you're like. Let them buy into not only your product, but your company and the people within it. We're humans with emotions and opinions, not robots. We should take advantage of being able to make people smile, let them see what we're like as people. It's easier to relate to people like that. We've done it in our site. It's only subtle, but it works really well. Just take a look at a case study, for example, Milner Off Road's. You'll learn that we thrive off biscuits, energy drinks and being powered by music (Ben especially loves biscuits, he normally eats them all and it makes me sad).
8) Infographics
To me, this totally makes sense. Instead of hitting people with a page of content, why not turn it into a beautiful, eye-catching graphic that's full of colour and images and lovely fonts. I know I would personally rather look at some information like that rather than reading plain text. It just makes it fun. However, you do need to be careful how you use this. The best way to include these is when you are showing a timeline, or a step by step piece of content. Doing all of your web pages with infographics will just be way too much. So limit it to how you use it and where.
I could go on forever about what I think will be booming in the web design world in 2015, but I think these are my main focus points. I, myself, will be pushing to utilise the above points more in both our own website and clients', and hope it helps to keep on raising our standards of web design even higher.
We offer a full web design service with bespoke websites, and the best part of it, you get to work with me! We'd love to collaborate with you on your web project in the new year. Just get in touch with us at Dijitul on 01623 650333 or email us at info@dijitul.uk.