Hello!
We have made this guide to help you get the most from Basecamp.
I will first show you around – then we can deep-dive into each section.
NB: Please try and keep ALL communications, file exchanges, document sharing, bug reporting, etc etc etc – all within your Basecamp project. Try to not break out and send things via email or WhatsApp (etc) as then we are often unable to retrieve information/files in future.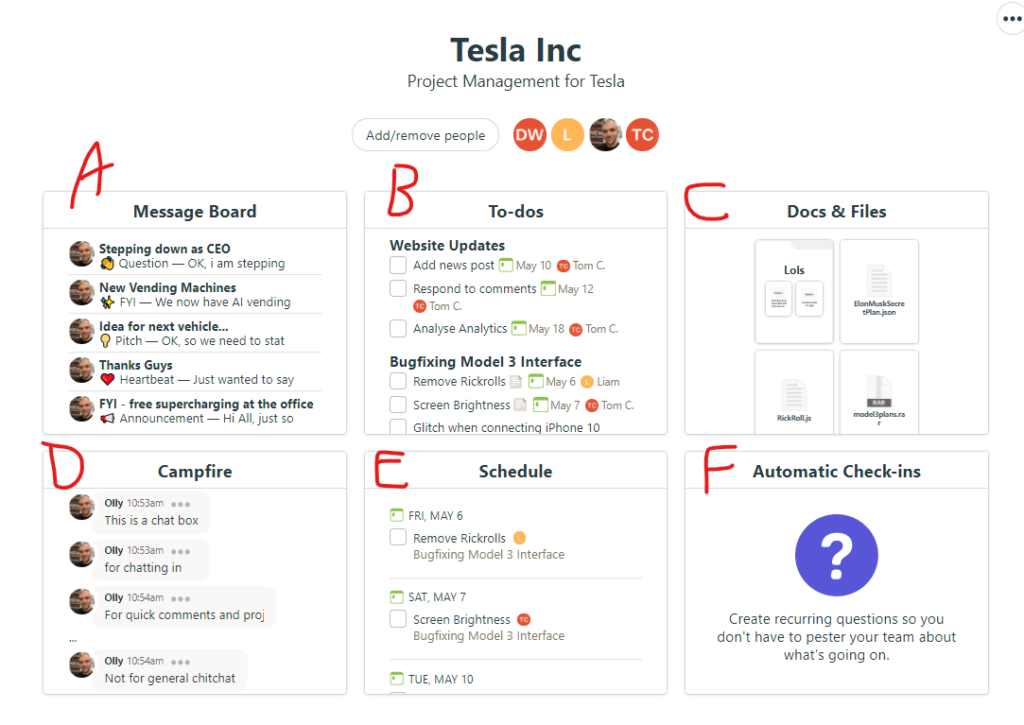 A = the general message board. This is for general announcements, queries and specific discussions. This is not the best place to add "Tasks" or "To-Do's" as you can't assign them to people directly which means they are often missed.
B = this is the to-do section. This is where actionable tasks should be added and assigned to specific people. This then puts the tasks on that individuals pile and will get actioned efficiently. You can also set due dates which allows you to control the order/priority of the tasks we work on.
Please keep the tasks relevant. Do not add something new to the bottom of an old task, ensure a new task is created for each new request. This ensures we do not overlook anything, and it also allows us to make our reporting and billing more accurate for you.
For any bug fixes, please try to include all relevant information in the initial task submission. Things like URL's of the pages the bug occured, annotated screenshots, Order numbers, steps to recreate – anything that can help us get started with the task right away. Failure to do so will simply delay the bug being fixed.
C = this is the docs and files section. This is where project assets are stored, images, PDF's & any other files that may need to be shared amongst the team.
D = this is the campfire and is not always something we use. The campfire is only rarely used on projects, as its better to have the discussions within each task/to-do.
E = this shows the schedule of to-do's, and it's automatically populated from due dates added to the actionable tasks.
F = this is for auto check ins. We use this section to reach out to you each month for updates and changes that we should know about. We like all project participants to join in with these check in's as it helps form good Basecamp habits 🙂
Deep Dives
A – The General Message Board
The only thing to consider here is the category;
Choosing this correctly helps keep things organised.
Then just add a title and content and click "Post this message"
B – To-Do Section
This section takes the most getting used to.
We usually form the initial lists, so button A below isn't something you will use much (unless you did want to make a new list for something) instead, button B will become your best friend;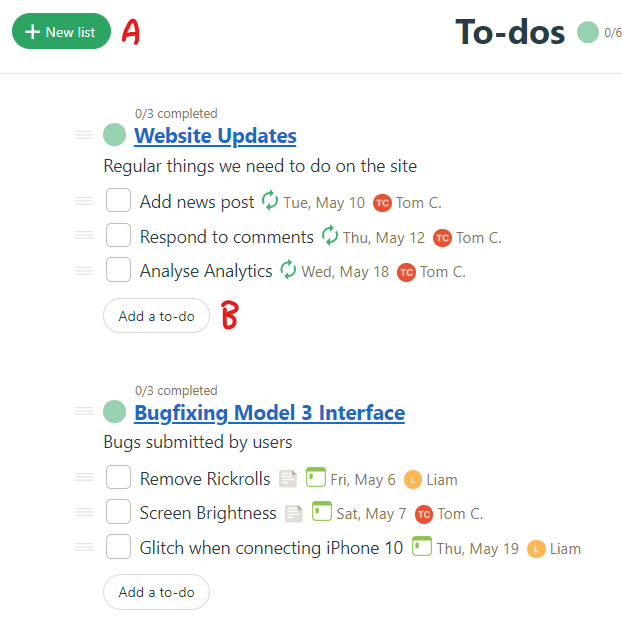 Choose the relevant To-Do list and his the "Add a to-do" button under it to add a new one.
You can assign the task, and set the due date easily. Assign tasks to your project manager and he will reassign it if required.
Once added you can click on the task name and you will get taken to a specific page where you can have a specific discussion about that one task.
C – Doc and Files Section
Easiest bit to use. Click to go into it and then drag things into it from your desktop. Sorted.
D – The Campfire
If this is enabled for your project, just click the campfire block and start typing 🙂 This is for general chat – do not discuss specific things here or request thing to be done from here, as they may get overlooked.
E – The Schedule
This is an automated section and is there for you to see the project tasks in date order.
F – Auto Check-Ins
This is a section we manage, and the questions it asks will appear in your "Hey!" section at the top.
Other Bits to Note
Top Navigation

Home – takes you back to the main screen.
Lineup – this is only really relevant with multiple projects
Pings – these are direct/private messages
Hey! – this is where your notifications appear
Activity – this shows what everyone in the project has been doing
My Stuff – this shows your assignments and projects
Find – this is a search feature
Android/iPhone/Desktop Apps
Basecamp do a great smartphone and windows desktop app – if you will be working with dijitul for a while, we recommend you install them and use them 🙂
Billing & Retainers
Any work we do for any customer should either be part of a priced/agreed project, part of an agreed retainer or if not – will be billed for once the task is completed.
—
Thats all folks…
If anyone has any queries please raise them with your project manager or ping me (Olly) using the ping section at the top of your Basecamp screen. 🙂