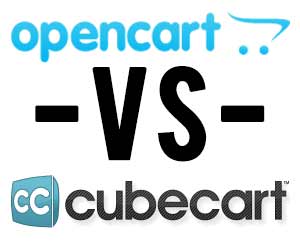 We are proud to promote our use of the fantastic open-source eCommerce platform: Opencart. We're a UK based, well respected Opencart Development team – so much so we are pushing this platform over all others now, and i figured some of our customers may wonder why?
So ive decided to do a VS series that covers some of the most popular eCommerce platforms VS Opencart – so you can see why we choose it over all others.
Today, its…
Opencart VS Cubecart 4
I've come up with 5 standard questions to use – so when i do more comparisons we are comparing the same things each time.
Question 1 – Ease of Installation
Opencart: Its easy to install, simply upload the files and visit your web address, it will automatically send you to the right place and ask for the right info. Once done it tells you to delete the install folder and you are ready to go
Cubecart: Similar in that the files are simply uploaded, and then run. Its a little more tricky as there is a licence to contend with so you need to ensure that is copied in correctly. Fairly straight forward however there are more steps than in Opencart.

Opencart Wins.
Question 2 – Ease of Administration
Opencart: Ok, so i'm not going to lie – Opencart can be a little more complex than other platforms on the market, but its complex as its thorough! Once you are familiar with the admin interface you can literally do anything you need – and control all aspects of the site that need controlling. Its very flexible and easily modified by vQmods (Virtual Mods)
Cubecart: This platform has one of the most basic admin interfaces going – its very easy to use, but for many its far too simplistic. Its customisable but only via hard-coded changes so it means if you update the core you potentially overwrite custom mods you have applied. Product options are set up very strangely and have caused us issues in the past when migrating to other platforms.

Cubecart Wins
Question 3 – Ease of Customisation
Opencart: This is the don when it comes to applying customisations, it uses a system called vQmods which virtually apply the mod via an XML file, meaning no core files are touched. It makes adding and removing add ons and extensions a BREEZE!
Cubecart: Unfortunately Cubecart handles mods in the same way most platforms do – its all about new files and adding stuff to existing ones, which is fine until update time!

Opencart Wins.
Question 4 – Selling Points
Opencart: Opencart comes with an RMA system built in, works with a high number of payment gateways out the box and takes into consideration things like EU VAT and other eCommerce requirements. It is also supported by one of the most active support communities, and regular updates are released, often with huge new features as requested by people like us,
Cubecart: Its been around the block a lot, and since we've used it it has grown to Cubecart 5 – but we still were not sold on its features even though it was apparently "Ground up" coded. It still also requires a licence, so its hard to justify passing that extra cost on to a customer especially when we have no confidence in the platform its self.

Opencart Wins.
Question 5 – Conclusion
Whereas Cubecart has stood the test of time, its very quickly become outdated and has been pushed out the way by platforms like Opencart as they are free and feature-wise are tons better. We have old sites running on Cubecart and will continue to support them, but we will never make a website using cubecart again unless the customer exclusively requests it.
Opencart 3 – Cubecart 1 = Opencart is better than Cubecart!
—————
I hope you found this post helpful, and please direct any questions to the comments below.
Next, Opencart vs Magento!