Google has begun to warn site owners that their website is NOT mobile-friendly
The worlds leading search engine has begun warning site owners that their website isn't mobile-friendly, this warning comes just one month before, Google boosts their mobile-friendly algorithm.
What Do These Warnings Look Like?
The new warnings show directly in the mobile search results, but only to the site owner, this is because Google knows that the searcher is the owner of the website. Jennifer Slegg, who has a website that is not mobile-friendly has reported that when she views Google's her site on her mobile, she is treated with a hyperlink that reads "Your page is not mobile-friendly." which goes to Google's help page about mobile-friendly.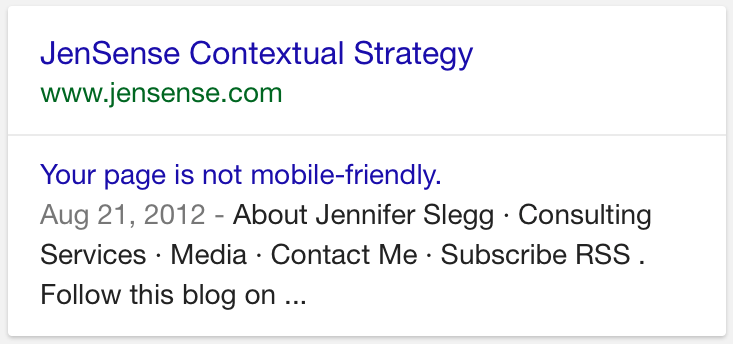 This message can only be seen by the site owner, and not anyone else. But this could change in the future.
What Does This Mean To You?
Google's new warning should be taken seriously, especially since considering being mobile-friendly is a ranking factor now. Plus a mobile-friendly website will give users a better experience when on your website. Find out why your website must be Mobile-Friendly here.