Concept Creations is a national digital agency specialising in organic search engine optimisation. Building clients from all sectors and industries, they provide both local and national marketing campaigns to suit any business. Concept's pride lies within customer service and transparency which has allowed them to build a substantial ongoing client base throughout the UK.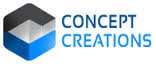 Edwinstowe based Entrepreneur Gavin King started working within the SEO industry back in 2010, eventually forming Concept Creations in 2014.
Gavin is now moving onto new ventures, using his years of experience to start up a new health shop selling products online as well as opening a small retail unit in Mansfield. We shall be working alongside Gavin to help him get his new business off the ground helping him with brand design, websites and digital strategy.
As a growing Digital Agency, taking over the operations of Concept Creations was an ideal opportunity for us to support our continued growth plan and increase our client base.
If you are thinking of selling a digital agency and want your brand and customer base to go to a team that will continue the great work you do – then please contact dijitul.