Every year, our local newspaper runs a business awards ceremony, where local companies are invited to apply and be up for one of 18 awards.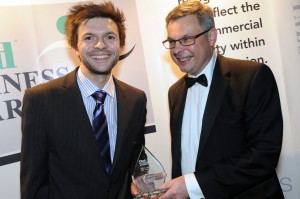 Thanks to our hard working team and ongoing determination we came away on the night, winners of New Business of the Year, and runner up in Small Business of the Year.
The CHAD reported;
"The firm has focused on delivering fantastic eCommerce and web marketing solutions, which has resulted in an increased turnover of 20.4 per cent when compared to the previous six months alone. The firm has taken on more staff, moved to bigger premises, won bigger contracts and expanded into new markets, such as training, recruitment, education. Working with the likes of Will.i.am and Buckingham Palace, Dijitul is making a name for itself and for Mansfield".
Pictured is Olly Hartshorne, Director of Dijitul receiving the award from Mark Bilton of Bilton & Hammond Solicitors.